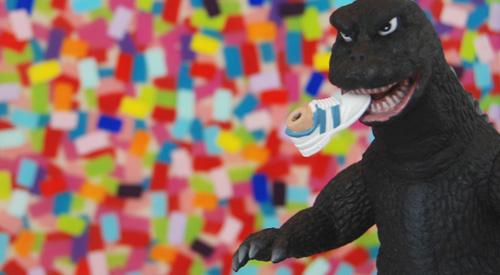 Last Friday a
severed foot washed ashore
on Valdes Island on the coast of British Colombia. The foot's unlucky owner tied his shoes tightly that morning, it seems, as his black Reebok runner was still firmly attached to said foot. This is the third foot to wash up on dry land in the past six months, say authorities, with the first two "stepping" ashore on nearby islands just miles away.
Size Matters?
The smelly evidence shows that the feet do have one thing in common: their owners all wore a size 12 shoe. Detectives haven't matched the DNA from any of the feet to police missing persons records, but foul play hasn't yet been ruled out. Jeff Dolen, B.C.'s assistant deputy chief coroner, says that although finding severed limbs and heads is pretty common, (???) it's unusual that three feet have washed up in such a short period of time on BC's coast.
What Else Kicks Around at Sea?
Beachcombers take note: not every shoreline shoe contains a severed foot. The latest foot-totin' shoe to visit BC's Limb Lost and Found follows a strong tradition of
shoes lost at sea
. The great Nike Shoe Spill of 1990 resulted in the dispersal of 80,000 Nikes throughout the Pacific Ocean. Unlike the unlucky beachcomber to happen upon severed foot last week, the Nikes were highly desired and drew many a shoe enthusiast to shores in the search of the still-wearable runners. In another case, nearly a million black rubber sandals washed ashore in Australia's Cocos and Keeling Islands, possibly due to an illegal product dumping by the manufacturer. Click here for more fab
foot facts
Finding your Sea Legs – or Feet
If your feet happen to guide you past the shores of BC's islands over the next few months, take caution before grabbin' up the nifty Nikes or rad Reebok's on the shoreline. They just might contain a orthopedeadly surprise.
---