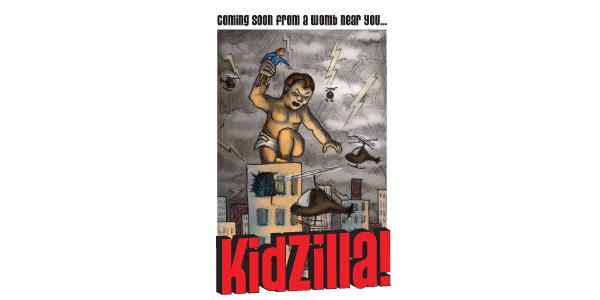 While mom is always cast in the lead role of her kid's lives... she doesn't always get celebrity status in the media world (or even in the credits, at times!). We've dug up our picks of the best flicks that are mommy inclusive. From classic mommy movies, to new age picks, to mantastic moms, to the ones that should've never been birthed, we've got 'em all. Mama said "knock you out"... with a mommy movie marathon.

Pssst... like our KidZilla movie poster? Print your own!

A family flick that surrounds not only a busy mommy, but her kids and husband as well. This Mom, who narrates the movie, happens to be a passionate writer and a mother to twelve kids. MAMA MIA! We're wondering a) how on Earth does a mother of twelve have time to write? and b) Does she have a blog, TOO?

Didya Know?
This movie is based on the real life family. The actually family never had multiples and managed to strike a balance of six girls and six boys.
Mommy Extract:
Tina Shank: Is Jake your only child?
Kate: Oh no, we have twelve
Tom: I couldn't keep her off of me.
---

A teeny movie about a girl trying to deal with the "hardships" of teen-aged life. Just when she thinks life can't get any worse after her parent's divorce, her best friends baby-daddy boyfriend dies of a heart attack at a soccer game. A urine test confirms that the young widow is pregnant and in need of support. She chooses to stick with it and becomes a teen mother. (start ominous drumming) Dah dah dahhhhhh h h h h . (end ominous drumming)

Didya Know?
When two of the characters are hiding behind a ticket booth, the reflection on the glass does not match their surroundings. Welcome to the Teenland Twilight Zone.
Mommy Extract:
Lorna Queen: Well…look at you Halley
Halley: That's hard to do without a mirror isn't it?
---

A mom's got to do what a mom's got to do. When a mother accidentally drinks her mad scientist husband's latest invention of an invisibility potion, she's shocked to find that one of his pet projects actually works! While most mom's wouldn't mind pulling the disappearing act on the family every now and then, this transparent trip may be a little much.
Mommy Extract:
Dee Wallace-Stone: Sorry isn't good enough when mom is invisible!
---

At last: a movie that allows women everywhere to see how men would deal with pregnancy. Arnold Schwarzenegger's rosy glow confirms the suspicions: he's preggers!

Didya Know?
To prepare for the role, Arnold Schwarzenegger spent time in a doctor's waiting room to observe how pregnant people behave.
Mommy Extract:
Noah Baines: Let me shake hands with the man who would be Mom.
---


A comedy about a laid-back teen that gets the shock of her life when she finds out she is going to have a baby.

Didya Know?
This is the first film released by Fox Searchlight to gross over $100 million at the box office.
Mommy Extract:
Vanessa Loring: Your parents are probably wondering where you are.
Juno MacGuff: Nah... I mean, I'm already pregnant, so what other kind of shenanigans could I get into?
---

A single parent raising two daughters with constant failing relationships moves away from her past to a new town. When the eldest daughter in the family falls in love with a local boy, both mom and daughter are challenged to overt family war. Sans manly presence or fatherly figure, they manage to keep the family unit from splitting.

Didya Know?
The movie is set in 1963, yet the characters mention Astro Turf which was originally introduced in 1965.
Mommy Extract:
Rachel Flax: Don't do anything I wouldn't do! Or don't do anything I would!
---

A mom tired of her oversized load of everyday responsibilities finds her inner change-agent when she starts to feel increasingly neglected and underappreciated by her family. Result? She goes on strike! As soon as her mommy movement is noticed by the community she becomes a national voice for mothers.
---

Mom goes back to work, so dad must stay home and watch the kids. Watch in delight as hubby struggles to deal with laundry, preparing 'real' home-made cooking, ironing, and painted children. (???)



Didya Know?
When the mother, Caroline, is falling asleep in the shower and is awoken by her husband, Jack, you can see the tan colored bathing suit she is wearing when she jumps. Good thing, too... we're sure that bathing suit would have cushioned her fall had Prince Charming not arrived on time. :)
Mommy Extract:
Jack Butler: You wanna beer?
Ron Richardson: It's 7 o'clock in the morning.
Jack Butler: Scotch?
---

Kathleen Turner is just like every other mommy out there. She just happens to be a serial killer! Before you know it, babies will be in charge of keeping the knives and scissors out of mommy's reach.



Didya Know?
When serial mom goes to a PTA meeting it is stated that 'Chip is off to a fine start this year' but during the opening scene we're told that the story takes place in Ma, not September when school normally begins. Which hemisphere did they film this in, anyways?
Mommy Extract:
Misty Sutphin: He killed people, mom.
Beverly Sutphin: We all have our bad days.
---

A movie about a group of female friends dealing with the hardships of life and motherhood. This movie will make you laugh and cry as you watch these women dealing with the four M's: Men, Marriage, Motherhood, and Menopause. Mmmm...

Didya Know?
There was an initial hesitation on casting Sally Field as a mother of a 22-year-old as the producers thought no one would believe she was the right age. It was then pointed out that she really was the mother of a 22-year-old. Touche!
Mommy Extract:
Truvy: Time marches on and sooner or later you realize it's marchin' across your face.
---

Stock up on Kleenex - even if you haven't cried since the last presidential election. Not the happiest mother movie but definitely one of the most emotional. A mother of two children had just taught her kiddies to cope with the divorce of her and her husband when she receives the news that she has cancer. The ex-hubby's planning to marry... and the new woman is photo-taking beauty of a spring chicken. In an all-out Alien vs. Predator mommy war, the women find reason to put their differences aside for the kids. Will Mom version 2.0 step up?

Didya Know?
The movie had many rejected titles until "Step Mom" was settled for. Some of these titles include "Goodnight Moon", "Always, Always", and "See You in my Dreams".
Mommy Extract:
Jackie Harrison (to Isabel): I have their past…and you have their futures
---

An over-bearing mother becomes her son's partner in crime when she purchases a shotgun.

Didya Know?
Sylvester Stallone considers this the worst film he's ever done.
Mommy Extract:
Tutti Bomowski: His a$$ was the grass and I was the lawnmower.
---

A widowed mother deals with her rebellious daughter while the pair tag-team damage control of Mom's own relationships. Endearingly unoriginal, and terminally emotional, this one is pure mommy gold.

Didya Know?
For the preparation of his role, Jack Nicholson was given the chance to consult with actual astronauts, as he does play the role of Garrett Breedlove (a retired astronaut) in this movie. Here's Astro-Johnny!

Mommy Extract:
Aurora Greenway: Don't worship me until I've earned it.
---

A movie not directly depicting motherhood but a movie depicting a family's history, friendships, issues and a battle of pride between a mother and her daughter. Yah yah yah...

Didya Know?
Filmed at the same time as the popular teen culture movie "A Walk to Remember" based on the novel of Nicholas Sparks. Both were coincidently filmed in Wilmington, North Carolina.

Mommy Extract:
Vivi: Don't look at me in that tone of voice!
---

A classic story about the magic that occurs when Dad leaves the girls home alone. A gigantic family of daughters live with Mom while Dad is working on the front lines and Mom gracefully manages the girly brigade on her own. Along with the normal turmoil that occurs between sisters, throw in a pinch of puberty, a heaping cup of fun and jealousy to taste. Add Estrogen and bake at 400 degrees for 120 minutes for best results.

Didya Know?

To go along with the firey personalities of many of the leading ladies, heat broke out during filming when Claire Danes lit her hair on fire with a candle. Thank God for electricity.
Mommy Extract:
Marmee: Feminine weaknesses and fainting spells are the direct result of our confining young girls to the house, bent over their needlework, and restrictive corsets.
---

A group of second generation Chinese women in American explore the pasts of their brave, globe-trotting moms through vignettes. The families are linked through the Joy Luck Club, a group that meets to play Mahjong and eat tasty food. Cultural clash + generation gap = totally complex mother / daughter dynamics.
Didya Know?

Emanuel Levy of Rotten Tomatoes writes that during the movie's press screening, Disney's publicists actually handed out Kleenex to the critics... just in case.

Mommy Extract:
An-Meit was an old tradition. Only the most dutiful of daughters would put her own flesh in a soup to save her mother's life. My mother did this with her whole heart even though my grandmother had disowned her. This is how a daughter honors her mother. The pain of the flesh is nothing. The pain you must forget. This is the most important sacrifice a daughter can make for her mother.
---
After ending her marriage with her irresponsible but good-natured husband, a Mom must locate a new nanny to help care for her three children. A good nanny's hard to come by, and the ex-husband and kid-missing father knows it. Disguising himself as an elderly no-fuss nanny, dad goes into undercover mode to max out the time he gets to spend with the kids - while keeping an eye on his ex.

Didya Know?

Robin Williams, who plays the daddy nanny in question, has a real life connection to the story line. While William's character divorces his wife and becomes her nanny, in real life he divorced his wife in order to marry his nanny.
Mommy Extract:
Chris: [stammering] Mrs. Doubtfire! He's a she! She's a he! He's a she-she.
Lydie: What?
Chris: He's half-man, half-woman.
Lydie: [screams] What?
---
A teen writer and rock n roll enthusiast heads out on a cross-country tour with an up-and-coming band in order to write a tell-all for Rolling Stone magazine. Having been left with an empty nest, the youth's memorable Mom struggles with her son's absense (not to mention his total departure from teenaged normalcy) as he discovers the truth about rock n roll and himself.

Didya Know?
This film's monster soundtrack contains the mother load of rock n roll giants. Over 50 songs are featured throughout the film, including some original tunes, grabbing up nearly half of the film's entire budget. Classic rock lovin' mamas unite!
Mommy Extract:
Elaine Miller: Rock stars have kidnapped my son!
---
When a geektastic astronomer accidently sends out an energy ball into space, the alien community becomes concerned about the sign. Solution? Send an attractive and eligable humanoid-looking alien to investigate, and get intimate with the scientist. This young model of a martian moves into the scientist's life, turning him star-eyed. All goes fine and well until this alien shows signs of her bizarre customs.
Mommy Extract:
[reporting to her father about new stepmother's strange behaviors]
Jessie Mills: I saw her drink the battery juice from your Honda!
---
Walmart, discount department store and provider of hot deals and falling prices, also provides a home to the star of this film. After being abandoned by her boyfriend in the parking lot of Walmart, this pregnant 17 year old decides to camp out in the store until the bun in her oven is ready for serving.

Didya Know?
Natalie Portman, the actress chosen to play our young heroin, had just appeared in Star Wars: Episode I - The Phantom Menace during the filming of this chick flick. The movie's success landed Natalie Portman-ridden posters and merchandise in Walmart - all of which had to be removed before filming could continue.
Mommy Extract:
Novalee Nation: Oh, I got money. The president of Wal-Mart gave me five hundred dollars.
Mama Lil: Why, he's not the father of the baby, is he?
Novalee Nation: No.
Mama Lil: Ah, shit.
---
An over-zealous adoptive mommy hopes to give her children everything that she never had as a child. But when MomZilla's personal life goes amiss, the kids start to realize that perfection-seeking mommy isn't so dear after all...

Didya Know?

The book on which the film is based was a huge success - becoming one of the highest-selling memoirs of all time in American literature, selling over four million hardback copies.
Mommy Extract:
Joan Crawford: Did you scrub the bathroom floor today? DID YOU?
Christina Crawford: Yes, Mommie.
Joan Crawford: Yes, Mommie what?
Christina Crawford: Yes, Mommie Dearest.
Joan Crawford: When I told you to call me that, I wanted you to mean it.
---
* Did we miss any super mommy movies? Let us know and we'll dig 'em out of the underground happy movie vault. heidi (at) happyworker (dot) kom
Illustrator:
Lillian Piekut/Happy Worker
---