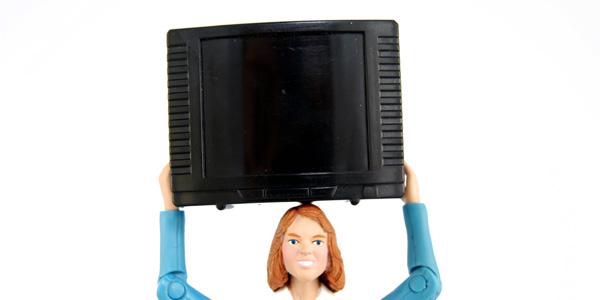 Think you're a pop culture quiz queen or a tube-watching wizard? Take a minute from your busy life as a mom and read a little tidbit about these favourite TV mothers and their fictional lives: complete with wacky, perfectly-kept, and completely misunderstood families. Test yourself with our TV mom trivia and find out who knows best: you, or mommy?
---
Who...

...has blue hair that touches the sky?
...says: "Oh, my special little guy!"?
...hears this from her neighbor: "Hi-diddily-ho-dilly neighboureenos!"?
...is mother to: Bart, Lisa, Maggie…Homer?
...is married to: Homer Simpson?
...enjoys: Painting, baking and making pretzels, and cutting her children's hair with cut-outs, monotone nagging
...is pet mommy to: Santa's Little Helper (dog), Snowball V (cat)
Marge Simpson

Bio: Marge is most well known for having sky-high blue hair, a strand of pearls, and a strapless green dress (which in one episode is found for mere pennies at a discount shop!). Although she is a stay at home mom, she has had her share of jobs and elite friends. Proving to everyone she can put her foot down, Marge becomes a police officer, she's become a mompreneur with her own  pretzel business, and she's painted several pieces for well-known individuals, including Ringo Starr from the Beatles.
---
Who...

...is married to a man who created Praiseland in her memory?
...is married to a man who  has a nose-neighbor?
...is mother to: Rod and Todd
...is married to: Ned Flanders
...enjoys: Attending church, being nice, quietly judging


Maude Flanders
Bio: Maude is a devoted Christian woman who has attended Bible camp with her neighbor Marge. Maude's last minutes on God's Green Earth involved retrieving a hotdog from a baseball game. Sadly her life was taken when she was hit by a t-shirtshot out of a cannon. At least she ended this life with a bang.
---
Who...
...says: "Peter, You're embarrassing me!"
...has a son whobelieves he can takeover the world? (and tries to exterminate Mom on a regular basis so she won't foil his plans)
...lives on Spooner street?
...is mother to: Chris, Meg, Stewie
...is married to: Peter Griffin
...enjoys: Occasional modeling, S&M, being a hot mom
...is pet mommy to: Brian (dog), Evil Monkey (although he tends to take care of himself)
Lois Griffin

Bio: Lois Griffin is a stay at home mom who teaches piano lessons as a form of income for her family. When Lois was a teen she was crowned Miss Rhode Island and wanted to pursue a career in modeling but her protective father thought she was better than that. This may explain Lois's party animal behavior as a teen and college student. Lois has been linked with members from the band KISS and in many episodes we can tell that her dog, Brian is head over paws in love with her.
---
Who...

...was thought to be the 'ideal' mom of the 50s?
...was considered very stylish, wearing a pearl necklace and traditional dresses, in nearly every episode?
...is mother to: Wally, Theodore "Beaver"
...is married to: Ward

...enjoys: Cooking and caring for her family, obtaining mommy perfection
...is pet mommy to: None (pet hair spells disaster for spick 'n span households!)

June Cleaver
Bio: June Cleaver is your typical mom of the fifties. With a string of pearls around her neck, perfectly-applied red lipstick and pinched cheeks (never rouge!) she was ready for anything her boys threw at her.
---
Who...

...has lovely girls with hair of gold and the youngest one is in curls?
...is mother to: Marcia, Jan, Cindy, Greg, Peter, and Bobby
...is married to: Mike

...enjoys: Wood paneling, overflowing grocery carts, bunk beds
...is pet mommy to: Tiger (dog)

Carol Brady
Bio: Carol is the mother of three girls and step-mom to three boys. Although the house may be full there is always room for some singing.
---
Who...

...wears a one-shouldered dress?
...has white rocks around her neck?
...relies on an elephant for a hot shower?
...is mother to: Pebbles
...is married to: Fred
...enjoys: Volunteering for women's organizations as well as charities, meeting celebrities and of course, shopping
Pets: Dino (dinosaur), Baby Puss (Saber tooth cat)

Wilma Flintstone
Bio: Wilma lives in the pre-historic era, which makes cleaning and housework that much more interesting. The floor is cleaned with a baby woolly mammoth vacuum and the dishes are sprayed with an elephants trunk. Now imagine if we had that today!
---
Who...

...has a blue haltered dress?
...has a single stone necklace?
...is mother to: Bamm Bamm
...is married to: Barney
...enjoys: Similar to her best friend Wilma, Betty enjoys volunteering for women's organizations and charities, shopping and

meeting celebrities
...is pet mommy to: Hopparoo (kangaroo-dinosaur)
Betty Rubble

Bio: Betty is the best friend and neighbor of Wilma Flintstone. Along with Wilma, Betty has some great appliances that would challenge any modern day cleaning-bot. (But angering PETA isn't worth it...)
 
---
Who...

...is a member of the Galaxy Women Historical Society?
...employs a nanny named is Rosie?
...is mother to: Judy, and Elroy
...is married to: George

...enjoys: Shopping, and dialing up a hot meal
...is pet mommy to: Astro (dog)

Jane Jetson
Bio: Jane Jetson lives in the future, and as it is a much easier time, she enjoys shopping at the local mall. Walking is a thing of the past so she is able to pop into her 'mini-glass-elevator' and take off to wherever she wants to go.
---

Who...

...named her daughter after a day of the week? (hint: her daughter's first name is Wednesday and her middle name is Friday)
...likes men with moustaches?
...always wears a long black dress?
...is unusually sensual and lovingly devoted to her husband despite living in a haunted house?
...is mother to: Wednesday, and Pugsley
...is married to: Gomez

...enjoys: Foreign languages, and dumbfounding her husband
...is pet mommy to: Kitty Kat (lion), Aristotle (octopus), Homer (spider)

Morticia Addams
Bio: Morticia is a misunderstood woman, who just wants to be able to live her life of darkness without judgement. She loves wearing black dresses and her favourite holiday is none other than Hallowe'en. She is a smart woman that is fluent in several languages, which she very proudly states.
---
Who...
...is a self-proclaimed caffeine addict?
...was a teen when she found out she was pregnant?
...can talk infinitely without coming up for air?
...is mother to: Rory Gilmore
...is married to: Single

...enjoys: Drinking coffee, romancing 30 and 40 something singles, and eating unhealthy foods
Lorelai Gilmore

Bio: Lorelai Gilmore has had a tough life but has never let it faze her. She is a big lover of unhealthy food and enjoys sitting and watching movies with her daughter Rory, all the while eating loads of junk food. She has "interesting" parents who helped her become the mom she is.
 
---
Who...
...has premonitions?
...is a research medium?
...is mother to: Ariel, Bridgette, and Marie
...is married to: Joe Dubois
...enjoys: Solving crimes, visiting other dimensions / times / worlds, sleeping poorly


Allison Dubois
Bio: Allison DuBois is a real life super mom who uses her ability to communicate with the dead to solve crimes and in some cases, prevent them from even happening.
*Got a fave TV mom that you'd like to see on the list? Mail heidi (at) happyworker (dot) com and keep her mommy memory alive (outside of re-runs, that is)

---