Happy Worker Toys is looking for a full-time Happy Product & Production Coordinator, Toys. This new teammate's main mission is to oversee toy projects and coordinate with our team and factory partners, to make sure our toys are manufactured to be their very best.
Role & Responsibilities
Clear Communications (30%): Communicate with our teammates and factory partners daily predominantly by email, but also by phone, chat and videoconference. Communicate clearly and concisely through words and pictures.
Thorough Product Documentation (20%): Create and update documents, including toy specifications/requirements, request for quotations (RFQs), product blueprints, production guides, QC checklists, project schedules, and more.
Review and Improve Samples (20%): Carefully review prototypes and production samples. Take photos and make detailed comments about necessary adjustments and improvements. Review with our team and with factory partners, and oversee changes.
Effective Project Management (15%): Follow our toymaking process to manage products from early concepts and costing, through prototyping and sampling, to final mass production. Work with our team and our factories to plan and direct projects, solving challenges and ensuring the highest quality products, delivered on-time and in the most cost-effective manner. Create and oversee production schedules. Provide detailed daily and weekly product and project updates.
Nurture Factory Relationships (5%): Find new factory partners that share Happy Worker's culture for honesty, ethics and fairness, commitment to best quality, good value, and worker safety and welfare. Work with our factories in a friendly manner, while maintaining firm oversight to ensure that our expectations are consistently achieved. Ensure that everyone is focused on making great products through professional manufacturing practices. Work with our accounting team to ensure factories and other vendors are paid promptly.
Quality Control and Safety Testing (5%): Create QC checklists for each product. Ensure products meet and exceed quality expectations, investigating root causes for any issues and finding good solutions. Oversee independent inspectors and perform QC inspections. Arrange toy safety and consumer products testing, and support toy testing labs.
Shipping + Logistics Management (5%): Arrange, coordinate, track and troubleshoot shipments, from small courier packages to FTL/LTL and FCL/LCL ocean and air shipments. Prepare customs documentation and import paperwork.
Cheerful Customer Service: Help our team happily support our licensors and clients, by understanding project goals, participating in e-mails / phone calls, laying out options, and preparing schedules, all with a pleasant and positive, customer-first attitude.
Travel and Visits: Able to travel regularly to China as needed to visit and work with factory partners and remote teammates/suppliers.
An Integral Team Member: Be a key part of a busy, hard-working and energetic team. Work collaboratively with all our teammates and partners around the world. Help pitch in for anything and everything that helps the team.
Constant Improvements: Make everything that you do, and we do, better!  Optimize production flow throughout all stages - R&D, prototyping and sampling, quality control, and mass manufacturing.
Happiness Creating: Bring happiness to all that you do!
Experience + Talents
Education: Degree or diploma in one of the following: manufacturing, industrial design, quality assurance, project management, supply chain, or a related business, engineering, scientific, or artistic discipline.
Detail-Driven Organizer: Great memory for details; you ensure every "t" is crossed and "i" dotted. Great at setting and managing priorities, task lists and schedules.
Expert Problem Solver: Able to find solutions to difficult challenges, exhibiting good judgment and making the impossible happen.
Excellent Communicator: Excellent business writing and speaking skills in English. Beneficial, but not required: working fluency in Mandarin (Putonghua) and/or Cantonese.
Eye for Aesthetics and Fine Details: Able to tell when a crisp detail has softened, when a color is close but not right, and when the fine details aren't as fine as they need to be.
Software, Technology, and Graphics: Comfortable with Microsoft Office suite, spreadsheets, and formatting. Expert online research skills. Fast typist. Some prior experience with graphic software, creating visuals/diagrams combining pictures and written copy (for example, the Adobe Suite - Photoshop, Illustrator, InDesign).
Numbers and Math Calculations:  Easily able to calculate imperial to metric conversions, foreign exchange, costs-per-unit, basic algebra, ratios and averages, etc.
Photography: Experience taking product photos, and working with camera settings & lighting to achieve good pictures.
Prior Exposure to Materials and Production Methods: Some degree of experience with several of the following: 3D printing, injection molding and plastics, rotational casting, resin molding and casting, fabric cutting and printing, sewing, painting techniques including washes, dry brushes and airbrushing; short-run prototyping, offset and digital printing, vacuum forming, blow molding, and more. Some exposure to 3D modeling or CAD software (like Zbrush, Maya, Solidworks, Modo, Rhinoceros, 3DS Max).
Production Exposure: Some prior experience in, or exposure to, consumer products manufacturing, preferably with toys, collectibles, or aesthetic, high design/high detail consumer products. Exposure to prototyping and model making process, designing to cost, and designing for manufacturability while pushing conventional limits.
Thrives on Responsibility: Excited to lead and be responsible for numerous projects and initiatives.
Appreciation of Geek Culture: Passion for one or more of the following: toys, video games, pop culture, and digital culture.
Diverse Work Experience: We'd appreciate seeing a resume that lists all of your previous work experiences – not just the recent positions or the ones you feel relate most to this role.
Comfortable in Fast-paced Environments: A quick worker who's practiced at handling lots of to-dos and keeping track of lots of details, without dropping balls. Please tell us about your busiest work experience in your cover letter.
Other Unique Talents: Extreme papercrafting? Duct tape artistry? Hikaru dorodango? If you decide to apply, let us know what other special talents or know-how you'd bring to Happy Worker. Anything goes!
Something we want to know: Please let us know your favorite toy and your favorite snack food.
More About the Role
Employment Type: This is a full time, permanent position.
Location: Toronto, Canada.
Start Date: The successful new team member may begin immediately, or within a couple weeks of being hired.
Office Hours: Approximately 9:00 to 17:00 Monday to Friday, with some work on evenings and at other times required to keep projects on-schedule.
All of our teammates must be able to help in the evenings and weekends during time-sensitive projects.
Salary + Compensation: $40,000 - $50,000 CAD depending on experience; Medical and dental benefits after 1 year.
---
About Happy Worker
Happy Worker has been creating (great!) toys and collectibles since 2003. Our team is passionate about doing our best work, getting all the little details right, and delivering happiness.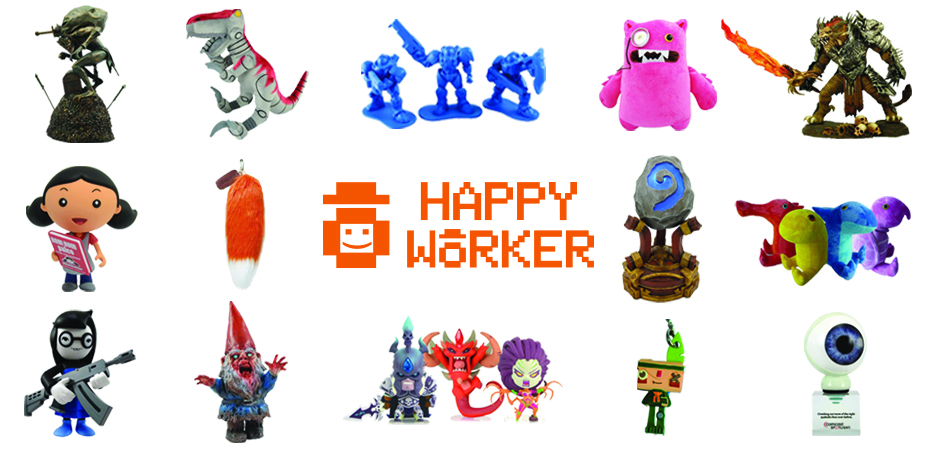 What We Do: Happy Worker designs and manufactures toys and collectibles together with many of the world's best video game studios, entertainment studios and corporate brands.
Our products are often designed for grownup collectors and video game fans.
Our Culture: Hardworking, communicative, reliable, fun, honest, self-critical, entrepreneurial, and, of course, happy.
What Motives Us: Making our next toy our best toy ever; spreading happiness to toy and game fans, and everyone else we come in contact with.
Locations: Our main HQ is in Toronto, Canada, with teammates and collaborators located across the U.S. and Europe. Most of our factories are in China.
More Info: www.happyworker.com
---
Applying to Become a Happy Worker
To apply, please send an e-mail with your resume and cover letter to teammate@happyworker.com with the subject line: "I'd like to be a Happy Product & Production Coordinator!". Please also include links to or sneak peeks at anything else you're really proud of. Pretty please ensure email is less than 10 MB.
In your cover letter, please answer the following 3 bonus questions:
Why do you want to be a part of the Happy Worker team?
Where do you see yourself in 2-3 years?
In past jobs/work, talk about a time when you performed beyond expectations.