Happy Worker is looking for a full-time Happy Office Administrator (aka "Happy Office Maker and Master of Money").
Happy Worker designs and manufactures (great!) toys and collectibles. Focused in the worlds of video games, animation, and digital culture, we exist to create happy fans and happy clients. Our small team is passionate about great work, getting all the little details right, and delivering happiness. For more about us please visit www.happyworker.com.
---
Happy Worker is searching for a new teammate to be the cheerful "glue" in our busy office, merrily quoting and invoicing, managing purchasing and bills, while keeping our team well-coordinated and well equipped. We're looking for a self-starter and master organizer, with a professional-yet-fun attitude. You'll have real world experience with invoicing, purchasing, quoting, general administration and project coordination. You'll bring happiness, careful organization, and proactive positive energy to all that we do.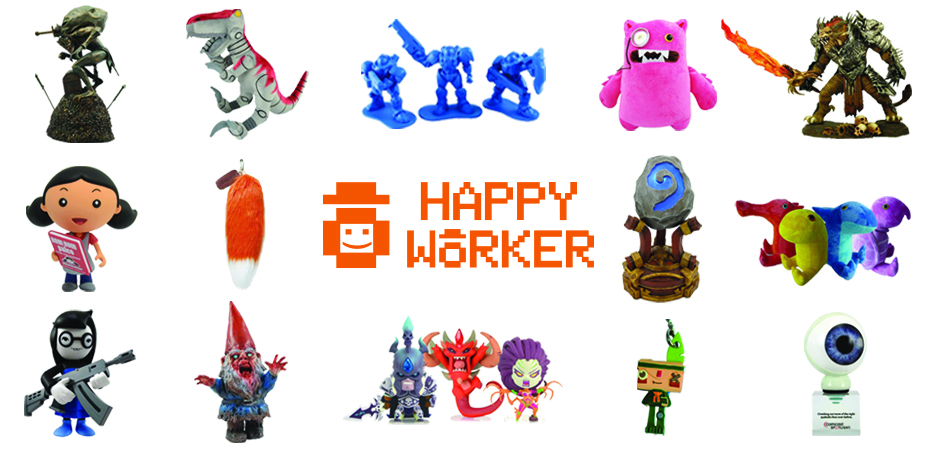 ---
Your Mission
Our Happy Office Maker + Master of Money will lead our invoicing and purchasing, while  lightening the team's workload and helping our crew and our office run more smoothly.
Quoting, Invoicing and A/R (20%): Together with relevant team members, receive and review quotes from suppliers and partners against project and business goals. Create project estimates and quotes for client toy and collectible orders that achieve both our client's and our goals. Create accurate invoices and send proactive and positive reminders to ensure prompt payments.
Purchasing, Vendor Relations and A/P (20%): Lead our team's purchasing and vendor relations. Find new vendors/partners for all sorts of needs and solutions. Manage budgets and create POs. Review bills for accuracy and ensure timely processing and payments. Treat vendors as partners and improve collaborations, while ensuring we're receiving great service, with on-time and on-budget delivery.
Project Support (20%): Assist whenever an extra hand is needed on projects throughout the office, collaborating with teammates and external partners, researching, creating documents, and writing emails and letters.
Bookkeeping Support (10%): Support our bookkeeper and accountant by organizing receipts, validating, managing paperwork, scanning, filing, and entering data into accounting software. Run and manage budgeting reports.
Shipping (10%): Schedule and pack multiple courier shipments each day.
Organization and Cleaning (10%): Keep our office tidy and organized by cataloging prototypes, organizing toy samples and displays, cleaning, filing documentation, cleaning and handling waste management.
Writing (5%): Author personal thank you letters, emails, client documents, meeting notes, web pages, and help proof/edit art files, documents, and e-mails.
Reception (5%): Greet office visitors, receive deliveries, handle general snail mail and emails, and turn each person you meet into the happiest worker possible!
Displays: Set up and maintain toy and prototype displays at our happy HQ and at events.
Any and All Office Tasks: Any and all miscellaneous to-dos that help our office and team work happily, including executive assistance, arranging travel, running errands, office cleaning, restocking snack and tea bar, etc etc.  Happy Worker is a small entrepreneurial team... there's more to do than we have time for!
Happiness Creating: Bring honest and authentic happiness to all that you do! Help deliver on and grow our mission to instill happiness in everything that we make and do.
Experience + Talents
Diverse Work Experience: We'd appreciate seeing a resume that lists all of your previous work experiences – not just the recent positions or the ones you feel relate most to this role.
Love of Customer Service: A solutions-oriented people person who's friendly + helpful in person, on email/chat and on the phone.
Appreciation of Geek Culture: Passion and love for one or more of the following: toys, video games, pop culture, and digital culture
Excellent Writer and Communicator: Excellent verbal and written communicator; able to write detailed but easy to understand emails/documents; a great listener; able to get a point across clearly when working with people with different cultural and linguistic backgrounds.
Tech Savviness: Extremely comfortable with Excel - formulas, linking, charts, formatting; experienced with Office suite; expert online research skills; fast typist. Some familiarity with: small business accounting software; graphic design software like Photoshop and/or Illustrator; webpage content management software. Able to troubleshoot and self-diagnose software and hardware issues, and help others resolve their technology challenges.
Passion for Details: Anal-retentive about details, with a desire to support a team by taking care of the "little picture" as much as the "big picture".
Innate Organizational Skills: A love of digital + physical organization and a passion for making spaces better.
Comfortable in Fast-paced Environments:: A quick worker who's practiced at handling lots of to-dos, without dropping balls. Please tell us about your busiest work experience in your cover letter.
Great with Numbers:  For example, easily able to calculate profit margins, BEPs, imperial to metric conversions, foreign exchange, costs-per-unit, basic algebra, ratios and averages, discounts, etc.
Education and Life-long Learning: A post-secondary degree or diploma in 'something'; *always* learning new things outside of school and work.
Expert Problem Solver: Able to find solutions to challenges, exhibiting good judgment and making the impossible happen.
Other Unique Talents: Extreme papercrafting? Duct tape artistry? Hikaru dorodango? If you decide to apply, let us know what other special talents or know-how you'd bring to Happy Worker. Anything goes!
Something we want to know: Please let us know your favorite toy and favorite snack.
More About the Role
Employment Type: This is a full time, permanent position.
Location: Downtown Toronto, Ontario (Richmond + Spadina). Our office is small, open-concept, and a little crazy.
Start Date: The successful new team member may begin immediately, or within a couple weeks of being hired.
Salary + Compensation: $40,000 - $55,000 depending on experience; benefits will be provided after one year.
Office Hours: 9am – 5pm (or sometimes later) Monday to Friday. Servicing our clients/partners well and keeping projects on-schedule often means some evening and weekend work.
Your Team Leader: The new teammate will report to Shirley Yee, our Co-Founder.
About Happy Worker
What We Do: Happy Worker designs and manufactures (great!) toys and collectibles together with video game and entertainment studios.
Our Culture: Hardworking, communicative, reliable, fun, honest, self-critical, entrepreneurial, and family-like. And, of course, happy :).
What Motivates Us: Making sure our next toy is our best toy ever; spreading happiness to our clients, their fans, and everyone we come in contact with.
More Info: www.happyworker.com
Applying to Become a Happy Worker
To apply for this happy mission, please send an e-mail with your resume and cover letter to teammate@happyworker.com with the subject line: "I'm Your Happy Office Maker + Master of Money!"
In your cover letter, please answer the following 4 bonus questions:
Why do you want to be a Happy Worker?
Where do you see yourself in 2-3 years?
In past jobs/work, talk about a time when you "went the extra mile".
What are you geeky about?